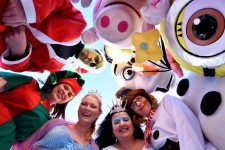 More than 4,000 people of all ages enjoyed the winter festivities over the last four weeks.
DUBLIN, Ireland, January 9, 2018 (Newswire.com) - Since the opening mid-December, hundreds of families came to visit Santa and participate in the Winter Wonderland festivities which closed January 7 at the Scientology Community Centre in Firhouse.
A spectacular laser show marked the grand finale of the Winter Wonderland. Hundreds of people took the opportunity to say their final goodbyes to the Christmas Season. Those in attendance included the Winter Queen, Elsa and Olaf of Frozen, Peppa Pig, a minion and other festive characters along with over 450 members of the local community.
The funfair rides were augmented for the day with a thrilling bungee-jumping trampoline for all ages. The complimentary hot chocolate was both timely and delicious. The crowds increased as kids of all ages competed against one another to show off their artistic prowess in the hugely popular arts and crafts corner.
With many more community events already booked for the coming months, the Scientology Community Centre is looking forward to a busy 2018. It will host a Valentine's Day concert on February 13, Family Day with activities on St. Patrick's weekend, Easter egg hunt with the Easter Bunny, and a lot more. Further details of upcoming community events can be found on the Scientology Community Centre Dublin Facebook page.
The Church of Scientology Community Centre in Firhouse was established in 2017 as a hub for local activities and events, in keeping with Scientology Founder L. Ron Hubbard's intention that all Scientology organisations are to serve as a home for the entire community and a meeting ground for cooperative efforts. Working side by side with all denominations and other groups on civic and humanitarian initiatives to strengthen the community, the Church and Community Centre facilities—1,000-seat auditorium, meeting rooms, café and football pitch—are available to community groups and charitable organisations who share the goal of a peaceful and cooperative society. In 1956, L. Ron Hubbard lived in Dublin with offices in Merrion Square where he launched humanitarian initiatives which continue to flourish throughout the world today. "If the weather is cold, the Irish heart is warm. The country and the people could not be improved upon", he wrote.
Source: ScientologyNews.org
Share: