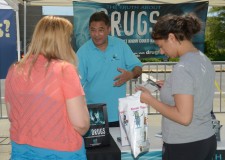 Volunteers bring award-winning drug education materials to Kent International Festival to help King County, Washington, residents take effective action to end the region's drug epidemic.
Kent, Washington, June 11, 2016 (Newswire.com) - With the state of Washington in the throes of a drug epidemic, volunteers from the Seattle chapter of the Foundation for a Drug-Free World brought their drug prevention program to the Annual Kent International Festival in King County, Washington.
According to the National Survey on Drug Use and Health:
Between 2009 and 2013, some 3 percent of Washingtonians age 12 or older (167,000 people) were dependent on illicit drugs within the past year.
Alcohol and/or drugs were responsible for more than 13 percent of all annual deaths in the state.
5 percent of Washington adolescents aged 12-17 (60,000 adolescents) used illicit drugs within the past year.
This is significantly worse than the U.S. average.
The volunteers decided to bring their program to the Kent International Festival after a recent Drug-Free World drug prevention forum at the Church of Scientology Seattle, where a representative of the Northwest High Intensity Drug Trafficking Area (HIDTA) program briefed those attending on escalating heroin and methamphetamine abuse in King County. The HIDTA program operates under the White House Office of National Drug Control Policy.
At a booth at the festival, volunteers answered questions and distributed copies of their award-winning videos and booklets throughout the day. In addition to drug prevention actions such as this, the Drug-Free World volunteers conduct drug education lectures and train drug prevention specialists.
The Church of Scientology supports the Foundation for a Drug-Free World and makes its drug prevention materials available free of charge to anyone wishing to take effective action to end the drug epidemic.
Source: ScientologyNews.org
Share: