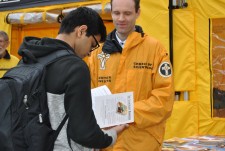 ANTWERP, Belgium, April 11, 2018 (Newswire.com) - ​On a brisk Saturday afternoon, a few blocks from Antwerp's famous train station, those visiting the Scientology Volunteer Ministers tent came to understand why the group's motto is "Something can be done about it."
Ten Volunteer Ministers from Brussels reached out to their northern neighbors, bringing their bright yellow tent and their tools for life to the city of Antwerp. Throughout the day, people stopped by to find out more and avail themselves of the volunteers' one-on-one help. 
Whether it was curiosity that brought them by or the hope they might find some answers, they were invited to browse through the displays, with volunteers ready to answer their questions and direct them to the technology to help them with their personal challenges.
In developing the program, Scientology founder L. Ron Hubbard wrote, "A Volunteer Minister does not shut his eyes to the pain, evil and injustice of existence. Rather, he is trained to handle these things and help others achieve relief from them and new personal strength as well. How does a Volunteer Minister accomplish these miracles? Basically, he uses the technology of Scientology to change conditions for the better — for himself, his family, his groups, friends, associates and for mankind." 
This technology is available in 19 courses that can help resolve anything from family problems to trouble at work, salvage a failing relationship or provide the know-how to accomplish a personal or professional goal. 
Scientology churches set up their tents each weekend at fairs, markets and other popular locations to make it easy for people to avail themselves of this service. Courses in this technology are also available online free of charge through the Volunteer Ministers website.
Anyone of any culture or creed may train as a Volunteer Minister and use these tools to help their families and communities. 
"If one does not like the crime, cruelty, injustice and violence of this society, he can do something about it," wrote Mr. Hubbard. "He can become a Volunteer Minister and help civilize it, bring it conscience and kindness and love and freedom from travail by instilling into it trust, decency, honesty and tolerance." 
Source: ScientologyNews.org