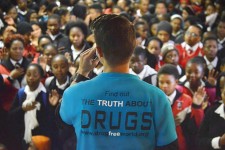 South Africa's dynamic drug education and prevention group is rallying the sports community to ensure at-risk youth in depressed communities have access to athletic programs as a healthy alternative to drug abuse.
TSHWANE, South Africa, October 9, 2017 (Newswire.com) - Over the past few years, Drug-Free World Africa has been educating soccer and basketball teams, golfers and other athletes on the harmful effects of drugs, and activating them to use their influence to help youth decide to get into sports, not drugs.
The group is expanding this initiative to involve athletes and corporate sponsors in providing sports facilities for youngsters in low-income areas.
Through thousands of visits to schools to give drug education lectures, Drug-Free World Africa volunteers have noticed high levels of drug abuse in schools that lack sports facilities.
"This is about to change," says Drug-Free World Africa coordinator Mauritius Meiring. He feels strongly that young people deserve the opportunity to improve themselves and create a successful and prosperous future. And he sees sports as a healthy alternative to drug abuse.
"Together we can create drug-free schools," is the motto of this initiative which they are calling #SportsAgainstDrugs.
As they continue giving drug education lectures in schools, Drug-Free World Africa volunteers will also assess the state of the schools' sports programs, so they can bring corporate sponsors and sports personalities and teams on board to raise funds, and build and open needed facilities.
"Sports build discipline, morale and belief in oneself," says Meiring. "Over the past five years, we have saved many lives through drug education and prevention. We already have an extremely effective program. But we are going to raise the bar in underprivileged areas by promoting healthy living through sports, to assist young people to achieve their dreams and goals."
The Foundation for a Drug-Free World (FDFW) is a secular nonprofit corporation that empowers youth and adults with factual information about drugs so they can make informed decisions to live drug-free. The Church of Scientology and its members support the Foundation for a Drug-Free World, whose Truth About Drugs campaign is one of the world's largest nongovernmental drug education and prevention initiatives. Thanks to this support, the Foundation provides—free of charge—drug education booklets, videos and educator guides to teachers, mentors and civic and community leaders.
According to the United Nations Office on Drug Abuse and Illicit Trafficking, "Every dollar spent on prevention can save governments up to ten dollars in later costs."
Source: ScientologyNews.org
Share: