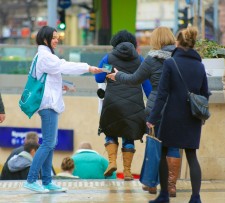 Volunteers from the Church of Scientology of Budapest take to the streets to bring the truth about drugs to the people of their city
BUDAPEST, Hungary, February 13, 2018 (Newswire.com) - Working in drug prevention for two decades, the Church of Scientology Budapest activated volunteers last week to ask this question and bring the truth about drugs to the city.
Fifteen volunteers reached nearly 1,500 people with factual information about drugs and what they do. They engaged many of them in discussions and encouraged them to read the Truth About Drugs booklet and make a self-determined, fact-based decision on the subject of drugs.
Last summer, there was a spike in overdose deaths in the city, which motivated the volunteers to ramp up their campaign.
Scientologists' opposition to drugs is based on a number of factors. They are committed to helping people do better in life, no matter the person's religion or belief. They take an active role in their communities and they know that drugs and crime go hand in hand.
Drugs were not a widespread problem under the communist regime that ruled Hungary from the end of World War II to the fall of the Iron Curtain. But within a decade of breaking from the grip of the Soviet Union, the country found itself under the effect of another kind of oppression — drugs. With the collapse of authoritarian rule, drugs poured into the country and their effect on society, particularly on the young, was devastating.
To raise awareness about drugs, Hungarian Scientologists created the Drogmentes Magyarországért Maraton, or Drug-Free Hungary Marathon. Unlike the normal 26.2 mile running event, the Drug-Free Hungry Marathon begins each year in early April and lasts 42 days, with volunteers running from city to city and town to town, covering some 2,100 km (more than 1,300 miles) and reaching youth in more than 300 municipalities.
Volunteers meet with city officials, MPs, police and educators and brief them on the Foundation for a Drug-Free World and its fact-based drug education program. In each town or city, they hold rallies for the children, give them drug education lectures, encourage them to pledge to live drug-free and invite them, and often local officials, to run along with them on their send-off to the next city.
The Church of Scientology and its members support the Foundation for a Drug-Free World, a secular nonprofit corporation that empowers youth and adults with factual information about drugs so they can make informed decisions to live drug-free. The Foundation's Truth About Drugs campaign is one of the world's largest nongovernmental drug education and prevention initiatives. Thanks to this support, the foundation provides drug education booklets, videos and educator guides free of charge to teachers, mentors and civic and community leaders.
According to the United Nations Office on Drug Abuse and Illicit Trafficking, "Every dollar spent on prevention can save governments up to ten dollars in later costs."
Source: ScientologyNews.org
Share: