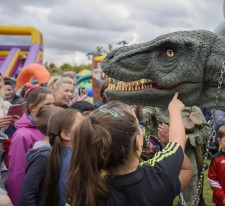 Families from across the country shared an unforgettable weekend of entertainment and fun at the Scientology Community Centre.
DUBLIN, September 26, 2018 (Newswire.com) - The Dinosaur-themed Family Fun Day at the Scientology Community Centre grew into a full weekend of activities and fun as over 7,500 came from across the country to share the unforgettable experience.
Thousands of children in dinosaur outfits—dino t-shirts, hats, jackets or carrying dinosaur toys—went wild when they saw the dinosaurs of all forms, shapes and sizes, which were placed all over the property.
The hit of the weekend was the Dino Experience—the ultimate Prehistoric educational and entertaining show of Ireland.
Children were fascinated to travel back in time to when dinosaurs roared, reigned and roamed the Earth and to learn about reptiles, the dinosaurs' closest living relatives. The meet & greet with the spectacular T-Rex certainly made memories which will last longer than the Jurassic Period.
There was also a petting zoo with reptiles and exotic animals, bumper cars and funfair rides, an arts & crafts corner, face painting, inflatable bouncy castles, a dinosaur children's books stand and dinosaur photo booth.
Games also took place at the newly renovated sports pitch which was inaugurated in the midst of the celebrations of the weekend.
"I brought my three children and my niece who were not able to sleep last night with excitement," said one mother.
"This morning our three-year-old made me go back home as she remembered she had to wear her dinosaur pajamas. She knows the names of every dinosaur. And when they went for the fossil search she knew even the name of the bones of the dinosaurs."
"My kids were so happy! They love the animals. They don't want to leave," said another.
One woman didn't tell her boy they were coming until they arrived. "As we walked by the fence he saw the dinosaurs and screamed at me 'Mom, look! Dinosaurs!' He couldn't believe it."
The Church of Scientology and Community Centre in Firhouse was established in 2017 as a gathering place for events and activities, in keeping with Scientology Founder L. Ron Hubbard's intention that all Scientology organizations are to serve as a home for the entire community and a meeting ground for cooperative efforts.
Over 100 community events welcoming more than 30,000 guests have been held in the facility since the opening.
The Church and Community Centre facilities — 1,000-seat auditorium, meeting rooms, cafe and football pitch — are available to community groups and charitable organizations who share the goal of a peaceful and cooperative society.
In 1956, L. Ron Hubbard lived in Dublin with offices in Merrion Square where he launched humanitarian initiatives that continue to flourish throughout the world today. "If the weather is cold, the Irish heart is warm. The country and the people could not be improved upon," he wrote.
For more information:
Diana Stahl
Director of Public Affairs
Church of Scientology & Community Centre of Dublin
01 541 8000
www.scientology-dublin.ie
www.scientology.tv
Source: Scientologynews.org
Share: