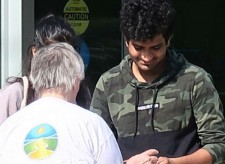 Celebrating UN International Day of Friendship by reaching out in the community with "The Way to Happiness," a common-sense moral code that helps create lasting friendships by instilling decency and respect.
SEATTLE, August 4, 2019 (Newswire.com) - Volunteers from the Church of Scientology Seattle and the Seattle chapter of The Way to Happiness Foundation spent the day downtown and in Seattle's Queen Anne neighborhood distributing copies of The Way to Happiness and information about the United Nations annual International Day of Friendship—a day to help build bridges of mutual understanding and dialogue within the community.
International Day of Friendship is based in part on "the recognition of the relevance and importance of friendship as a noble and valuable sentiment in the lives of human beings around the world."
This special day was proclaimed in 2011 by the UN General Assembly because "friendship between peoples, countries, cultures and individuals can inspire peace efforts and build bridges between communities."
Written by author and humanitarian L. Ron Hubbard, The Way to Happiness is a common-sense moral code containing 21 basic principles for a better quality of life.
"Over the last several years we have distributed well over 10,000 copies of The Way to Happiness to uplift neighborhoods in Washington State," said the group's coordinator. "Nonreligious in nature, this booklet is used by people of virtually every culture and creed and empowers individuals to help others and make a difference in their neighborhoods and beyond."
The Way to Happiness Foundation is a global network of business owners, human resource directors, law enforcement personnel, educators, mentors, parents, youth and volunteers, all connected by the common purpose to restore decency, honor and dignity in the world.
The Church of Scientology and its members are proud to share the tools for happier living contained in The Way to Happiness.
Watch The Way to Happiness book on film on the Scientology Network.
Source: Church of Scientology International
Share: