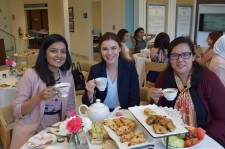 Thanking the volunteers and supporters who organized and volunteered at the 27th annual Easter egg hunt in Clearwater's Coachman Park
CLEARWATER, Fla., May 30, 2019 (Newswire.com) - The Clearwater Community Volunteers Center (CCV) acknowledged volunteers and supporters of this year's Easter egg hunt in Coachman Park with an Alice in Wonderland-themed tea party May 18.
Each guest received a raffle ticket and took their seats at tables set up with "EAT ME" and "DRINK ME" signs and quotes from Alice in Wonderland. The theme was chosen as the work of volunteers and supporters who made the Easter egg hunt such a success aligns with the views of author Lewis Carroll, who wrote, "One of the secrets of life is that all that is really worth the doing is what we do for others."
Master of ceremonies and CCV volunteer Gertie Perry surprised the guests by announcing the afternoon featured a hunt of its own—four gifts had been hidden in the room. And just as with Easter egg hunting, the first to find gifts could keep them.
Among the raffle prizes were handmade jewelry, beauty products, artwork and gift cards.
"The backbone of CCV is our Volunteers," said Clemence Chevrot, Director of the CCV Center. "We put on this tea party to show our appreciation for the support of our volunteers and the work they do to help families and children in our community."
Help is the byword of the CCV, in keeping the belief of humanitarian and Scientology Founder L. Ron Hubbard that "the biggest right there is, is not the right to vote, is not the right to freedom of speech, or press, or religion, or anything else. The biggest right there is in human rights is the right to help!"
To find out more information about the Clearwater Community Volunteers Center, call Michael Soltero at (727) 316-5309 or email ccvcenter@ccvfl.org.
About the Clearwater Community Volunteers:
Clearwater Community Volunteers has served the community for more than 25 years, helping over 150,000 families and children since the group was founded in 1992. Sponsored by the Church of Scientology Flag Service Organization, volunteers extend their help to the entire community from their new center located on the corner of Fort Harrison Avenue and Drew Street in downtown Clearwater.
Source: ScientologyNews.org
Share: