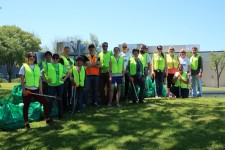 Members of the Church of Scientology in San Jose celebrated Earth Day by joining the city in its Annual Great American Litter Pickup.
SAN JOSE, Calif., April 25, 2018 (Newswire.com) - A team of Scientology volunteers met at the front of the Church of Scientology in San Jose on Lundy Avenue April 21 to huddle and fan out to local areas. They filled 22 large trash bags in a matter of hours and gathered again at the Church for an Earth Day celebration.
"I've been helping the City of San Jose fight graffiti and litter for two decades," says project leader Joey Percival. "We care about cleaning up the community and beautifying our city, and will continue to do so."
Scientologists from all over the world carry out campaigns in alignment with The Way to Happiness, the nonreligious moral code written by humanitarian and Scientology founder L. Ron Hubbard. Neighborhood cleanups are one way Scientology churches promote two of the precepts of the booklet: Safeguard and Improve Your Environment and Set a Good Example.
Earth Day is celebrated on April 22 every year. Founded by U.S. Senator Gaylord Nelson as an environmental teach-in, the first Earth Day was held in 1970. It has grown into a global event with an estimated one billion people taking part in the day of action in 192 countries around the world.
Source: ScientologyNews.org
Share: