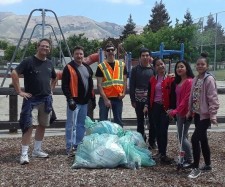 Members of the Church of Scientology in San Jose joined the Santa Clara County Water District and the City of Milpitas May 18 on their National River Cleanup Day activities.
MILPITAS, Calif., May 23, 2018 (Newswire.com) - On a beautiful clear Saturday morning, with the grand Milpitas Foothills as a backdrop, a team of Scientologists, in coordination with the Santa Clara County Water District and the City of Milpitas, spent several hours on Tularcitos Creek and the surrounding area on a National River Cleanup Day project removing anything that could be hazardous to creek life.
According to Waterencyclopedia.com, "The most common litter in U.S. streams is household trash, including plastic cups, plastic bags and wrapping materials, fast-food wrappers, plastic bottles and other plastic containers. Plastics can be especially hazardous to wildlife. Depending on their form, they can either be ingested, causing internal organ failure, or they can cause a slow strangulation."
Banding together across America at least once a year, Americans could free up water flow of all creeks and rivers and preserve creek and river wildlife. The ripple effects of just this annual event can be tremendously rewarding in the long run.
In The Way to Happiness the common-sense guide to better living written by L. Ron Hubbard, precept 12, "Safeguard and Improve Your Environment," states: "Care of the planet begins in one's own front yard. It extends through the area one travels to get to school or work. It covers such places as where one picnics or goes on vacation. The litter which messes up the terrain and water supply, the dead brush which invites fire, these are things one need not contribute to and which, in otherwise idle moments, one can do something about."
National River Cleanup began in 1991 and is a key initiative of American Rivers, a Washington, D.C.-based national river conservation organization.
Source: ScientologyNews.org
Share: