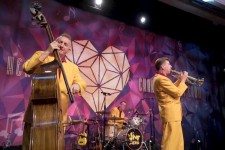 Community talent show in South Dublin raised funds to provide equipment that can save lives.
TALLAGHT, Ireland, May 12, 2018 (Newswire.com) - ​​Local artists join Britain's Got Talent semi-finalists, the Jive Aces, last week for the Golden Heart Charity Talent Show at the Scientology Community Centre in South Dublin. The program raised nearly €8,000 to provide life-saving gifts to sports clubs.
Joining the Jive Aces were local performers including Marby Ariolla and the Bellefords who performed with the band, singers Alan Keating and Marc Power, dancers Rian Keating and Karen MacNamara and the talented young students of Aspire Dance Academy.
The show was inspired by the Irish Heart Foundation (IHF) in its campaign for the community to help make defibrillators available in public locations throughout South Dublin. According to IHF statistics, some 5,000 people die every year in Ireland of sudden cardiac arrest — this is 13 lives lost every day. Access to defibrillators can mean the difference between life and death.
We hope the defibrillators will never be needed, but if even one of them is used once in the years to come, the people who came here tonight will know that they saved a life.
Donations raised by the talent show purchased four defibrillators for sports clubs to place in locations at their discretion. One was presented to Tallaght Rugby Club, one to Firhouse Clover Football Club and two to the Tallaght Town Asian Football Confederation to use in locations where its 26 teams train.
With more donations raised than expected, the Community Centre was also able to present two additional cheques of €1,000 each, one to the Sacred Heart Football Club and the other to Aspire Dance Academy to support their activities with children.
"It was beautiful to see the passion and desire to help with which the local community took on this challenge when we announced that we would like to give out four defibrillators to local sports clubs," said Diana Stahl, spokesperson of the Scientology Community Centre. "We hope the defibrillators will never be needed, but if even one of them is used once in the years to come, the people who came here tonight will know that they saved a life."
The main contributors were invited on stage to assist with the presentation of the defibrillators. This included community leaders and representatives of organizations that have worked with the Scientology Community Centre on events and projects over the past six months and who generously helped when asked to support this cause.
The Church of Scientology and Community Centre in Firhouse, South Dublin, was established in 2017 as a hub for local activities and events, in keeping with Scientology Founder L. Ron Hubbard's intention that all Scientology organizations are to serve as a home for the entire community and a meeting ground for cooperative efforts. Working side by side with all denominations and other groups on civic and humanitarian initiatives to strengthen the community, the Church and Community Centre facilities — 1,000-seat auditorium, meeting rooms, café and football pitch — are available to community groups and charitable organizations who share the goal of a peaceful and cooperative society. 
In 1956, L. Ron Hubbard lived in Dublin with offices in Merrion Square where he launched humanitarian initiatives which continue to flourish throughout the world today. "If the weather is cold, the Irish heart is warm. The country and the people could not be improved upon," he wrote.
Source: ScientologyNews.org