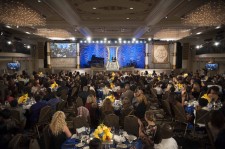 Clearwater, FL, April 21, 2016 (Newswire.com) - On the 20th of April, 351 members of 120 charitable organizations throughout the Tampa Bay area celebrated their best and brightest at the April Charity Coalition Dinner hosted by the Church of Scientology Flag Service Organization. The event celebrated National Volunteer Week and was held in the Historic Fort Harrison, downtown Clearwater. The evening included entertainment, gourmet buffet and an awards ceremony that acknowledged 43 top volunteers from area charities and non-profit organizations.
Jennifer Webb, Community Affairs Director for the Church of Scientology, gave a welcome and acknowledged all attendees for their volunteer service, "In the words of Humanitarian, Educator and Scientology Founder L. Ron Hubbard: 'What is important is how much service you can give the world and how much you can get done and how much better you can make things. These are important things. These are all that are important.'"
Mr. Bob Dillinger, Public Defender 6th Judicial Circuit, was the keynote speaker. Thanking all volunteers and the Church of Scientology for their dedicated efforts in the name of helping others, he gave a heartfelt speech on the importance of taking care of our children who will be tomorrow leaders.
Attending groups nominated their stellar volunteers to receive the Charity Coalition's Civic Humanitarian Award. These 43 honorees represented a broad range of charities and non-profits and included: Clearwater Jazz Holiday Foundation, Pinellas County Foster & Adoptive Parents Association, 100 Black Men of Tampa Bay, Selah Freedom (a human rights organization), the Audubon Society (environmental group), Homeless Empowerment Project, Suncoast Hospice, Girls Scouts West Central Council, Downtown Dunedin Council, Hope Children's Home, Central Florida Community Planning & Development, Children with a Vision, Save our Students Foundation, Miracles Outreach and Men of Vision.
As a certifying organization, the Church also arranged for the Civic Humanitarian's to receive the prestigious Presidential Service Award, as established in 2003 by the President's Council on Service and Civic Participation, to further recognize their contributions.
The evening was capped with a special video presentation on the Church, showing its global support for charitable activities within the community through its social betterment programs. These programs provide effective educational materials on human rights awareness, criminal rehabilitation, drug education and prevention and values and virtues for tolerance and peace.
"This was a phenomenal event and look at all these people!" stated Gracia Bennish, one of the Civic Humanitarian awardees, "After Mr. Dillinger's speech, everyone was buzzing at our table and wanted to get more active and do something. You could see it at the other tables too. It's fantastic how everyone comes together like this for our communities."
The Charity Coalition, established in 2014 by the Church of Scientology, is now comprised of over 160 nonprofit organizations. The next Charity Coalition will be a luncheon in the Fort Harrison Ballroom on 29 June. To receive an invitation, please contact the Public Affairs Office for the Church of Scientology in Clearwater at 727-467-6860.
About the Church of Scientology:
The Scientology religion was founded by humanitarian and philosopher, L. Ron Hubbard. The first Church of Scientology was formed in the United States in 1954 and has expanded to more than 11,000 churches, missions and affiliated groups, with millions of members in 165 nations. Scientologists are optimistic about life and believe there is hope for a saner world and better civilization, and actively do all they can to help achieve this. The Church of Scientology regularly engages in many humanitarian programs, such as anti-drug campaigns, human rights campaigns and global education programs. To learn more, visit www.Scientology.org
Contact: Pat Harney 727-467-6860
Source: ScientologyNews.org
Share: