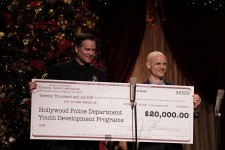 Church of Scientology Celebrity Centre stages its 24th annual fundraiser for Hollywood Police Department youth development programs
Hollywood, California, December 6, 2016 (Newswire.com) - The Church of Scientology Celebrity Centre presented Christmas Stories XXIV on December 2 and 3. The cast included Jenna Elfman, Michael Pena, Erika Christensen, Nancy Cartwright, Marisol Nichols, Jaime Aymerich, Jason Dohring, Jennifer Aspen and Michelle Stafford performing skits and Christmas stories to benefit Hollywood Police Department programs for at-risk youth. Proceeds also support the Department's annual Christmas party and toy giveaway for underserved children.
Performed on a set evoking a 1930s radio show, Christmas Stories, now in its 24th year, showcases traditional and original stories and songs. The annual event has raised more than $380,000 for Hollywood PD community programs since 1993.
The Hollywood police youth programs are hands-on activities of police department personnel that direct youth into educational, recreational and athletics activities as an alternative to gangs and train them on leadership and life skills.
Christmas Stories also funds the Hollywood Police Support Association annual Christmas party for children, organized in cooperation with the Hollywood community and city public schools.
LAPD Hollywood Division Area Commander Captain Cory Palka stepped to the stage to accept a $20,000 check from Celebrity Centre Vice President Greg LaClaire.
"I don't know of a Church or a body or a group of people like yourselves," said Captain Palka. "I want to say thank you so much for that passion that you continue to give us today. You will change the face of this community for years to come, as you have for the past decades, in your kindness and your giving."
"We present Christmas Stories each year to support our police in their efforts to create a safe environment for children in Hollywood," said LaClaire. "Scientology Founder L. Ron Hubbard once stated that 'When children become unimportant to a society, that society has forfeited its future,' and it is because of our commitment to the youth of Hollywood that we have organized this benefit for the past 24 years."
For more information, visit the Scientology Newsroom.
Source: The Church of Scientology