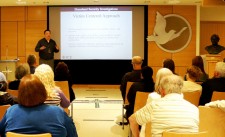 The Church of Scientology of Washington State launches a campaign in advance of the 70th anniversary of the United Nations Universal Declaration of Human Rights.
Seattle, Washington, December 21, 2017 (Newswire.com) - A series of activities promoting human rights began the yearlong campaign of the Church of Scientology of Washington State to raise awareness of the Universal Declaration of Human Rights (UDHR), adopted December 10, 1948, leading up to the document's 70th anniversary.
The programs began with a community forum highlighting the issue of human trafficking in Washington. Guest speaker Clinton Watanabe, Victim Assistance Specialist with Homeland Security Investigations, spoke of the plight of those forced into modern day slavery. According to the International Labour Organization, forced labor generates annual profits of $150 billion. Seattle is part of a trafficking circuit that includes Honolulu, Las Vegas, New Orleans, Portland, Vancouver (Clark County), Yakima and Canada.
Washington's Task Force Against Trafficking of Persons reports that the state "is a hotbed for the recruitment, transportation and sale of people for labor," in part due to its abundance of ports and its international border with Canada.
A second city-wide open house on civil rights crimes featured Supervisory Special Agent Ryan W. Bruett with the FBI Seattle Field Office. He oversees a squad responsible for investigating public corruption, civil rights crimes and transnational organized crime in Seattle and throughout King County. "Human trafficking is the third most profitable criminal activity in the world," he said. To address one issue of particular concern, the office has established Child Exploitation Task Forces (CETFs) in Seattle, Tacoma, Vancouver and Spokane to provide "rapid and effective investigative response to reported federal crimes involving the victimization of children."
The Church-sponsored humanitarian initiative United for Human Rights and its program for young people, Youth for Human Rights, complements the work of these agencies by raising awareness of human trafficking and other violations of the Universal Declaration of Human Rights. Its booklets and audiovisual properties make the 30 articles enshrined in the UDHR understandable to students of all ages. To illustrate the impact of the program, a United for Human Rights volunteer screened the award-winning The Story of Human Rights documentary, which presents a brief and compelling history of human rights and the state of the subject in today's world. Members of Seattle's Youth for Human Rights chapter have been introducing the educational program at conferences throughout the state, ensuring educators and school administrators have access to the educational materials, which the Church makes available free of charge.
Inspired by the vision of humanitarian and Scientology Founder L. Ron Hubbard, Scientology Churches have been active in the field of human rights since the earliest days of the religion. For more information on the human rights initiatives the Church supports, visit the Scientology website.
Source: ScientologyNews.org
Share: