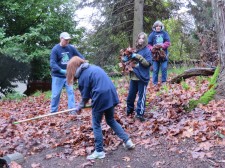 Known as the Emerald City for its over 2,500 acres of forested parklands, Seattle depends on volunteers such as those of the Church of Scientology to maintain the sustainability of these natural resources.
Seattle, Washington, November 30, 2016 (Newswire.com) - ​​​Seattle's Way to Happiness Foundation and the Scientology Environmental Task Force joined forces with Green Seattle Partnership to celebrate the 11th annual Green Seattle Day in Kinnear Park. The volunteers helped plant more than 300 native trees and shrubs.
Forest steward Dave Scattergood, who coordinates Scientology Environmental Task Force projects, noted that Seattle has long been known as the Emerald City for its over 2,500 acres of forested parklands. But there is a threat to the future of these parks, he warns. "Invasive plants such as blackberry and English Ivy are choking our native trees in greenways and parks."
According to Green Seattle Partnership, "If forested parklands are not restored, aggressive non-native vegetation will dominate the urban forest unless removed. In 100 years, the trees will be gone. City officials estimate that potentially billions of dollars in services such as storm water control will be lost."
"We routinely remove these invasives in Kinnear Park and plant native trees and shrubs," says Scattergood. "This is part of our purpose to return the park's urban forest to a more sustainable condition."
The newly planted native species provide habitat and food for wildlife, and seeds that will turn bare ground into an oasis for pollinating insects. To give the new plants the best possible chance of survival, volunteers also spread yards of mulch.
The work of both groups is inspired by The Way to Happiness, the nonreligious guide to better living written by author, humanitarian and Scientology Founder L. Ron Hubbard.
Precept No. 12 of The Way to Happiness is "Safeguard and improve your environment." Mr. Hubbard wrote, "There are many things one can do to help take care of the planet. They begin with the idea that one should. They progress with suggesting to others they should. Man has gotten up to the potential of destroying the planet. He must be pushed on up to the capability and actions of saving it."
Some 950 volunteers came out to Green Seattle Day, planting 4,392 plants including some 1,300 trees and over 3,000 smaller plants that are now on their way to becoming the next generation of Seattle's urban forest.
The Scientology Environmental Task Force adopted Kinnear Park 16 years ago to ensure that one of Seattle's most beautiful parks continues to serve the people of the city for many years to come.
The Way to Happiness is a nonreligious common-sense moral code written by L. Ron Hubbard. Immensely popular since its first publication in 1981, some 115 million copies have been distributed in 115 languages in 186 nations and the campaign has been embraced by more than 250,000 individuals and groups.
Read the article on the Scientology Newsroom.
Source: Church of Scientology
Share: