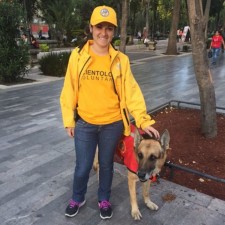 Two dogs who proved themselves to be "Man's best friend" following the Sept. 19 Mexico earthquake
MEXICO CITY, October 6, 2017 (Newswire.com) - Los Topos, the famous Mexican search and rescue team, pulled 33 men, women and children from the rubble of the Sept. 19 earthquake. But on nearly a third of these rescues, two sniffer dogs were a vital component: Zeus is credited with saving three lives, and Shira rescued seven.
The use of dogs in search and rescue dates back to the 1700's when massive dogs named for the Hospice du Grand St. Bernard, a monastery in the St. Bernard Pass between Switzerland and Italy, were used to locate travelers lost in blizzards.
During World War I, the Red Cross trained dogs to find and rescue injured soldiers on the battlefield during lulls in the fighting. In World War II, dogs pulled survivors out of collapsed buildings during the London blitz.
They have proved themselves to be invaluable in search and rescue operations ever since.
The Church of Scientology Volunteer Minister program is a religious social service created in the mid-1970s by Scientology Founder L. Ron Hubbard. Since the 2010 Haiti Earthquake, Los Topos has partnered with the Scientology Volunteer Ministers, who provide them logistical support, work side-by-side with them at disaster sites, and help survivors with Scientology assists — techniches developed by Scientology Founder L. Ron Hubbard that provide relief from trauma and stress. When the Mexico City earthquake struck, Los Topos designated the Church of Scientology Mexico as their headquarters for their relief operation.
Source: ScientologyNews.org