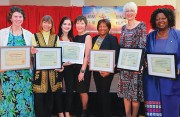 As featured in Pride Magazine, Dr. Jean Augustine and four other noted advocates of human rights were awarded at the 10th annual Human Rights Award ceremony of the Toronto chapter of Youth for Human Rights.
Toronto, Canada, March 14, 2016 (Newswire.com) - ​The Toronto Chapter of Youth for Human Rights International (YHRI) human rights award ceremony at the Ontario Science Centre honored Ontario's first Fairness Commissioner, the Hon. Dr. Jean Augustine, PC (Queen's Privy Council for Canada), CM (Order of Canada) and CBM (the Most Excellent Order of the British Empire), for her "dedication towards bringing life to human rights" and her work in promoting the 30 articles of the U.N. Universal Declaration of Human Rights.
Dr. Augustine immigrated to Canada from Grenada in 1960. Beginning her life in her new country as a domestic, she rose to become the first African-Canadian woman elected to the Canadian House of Commons and to serve in the federal Cabinet.
She attended the University of Toronto, where she earned bachelor of arts and master of education degrees, and worked as an elementary school principal from 1988-1993.
The former National President of the Congress of Black Women of Canada, she helps create a better future for young women through the annual Jean Augustine Scholarship, a fund that helps single mothers attend George Brown College and Centennial College in Toronto.
She has shared her expertise and commitment to social change, chairing the Metro Toronto Housing Authority, serving as National President of the Congress of Black Women of Canada and on the Board of Harbourfront and the Board of Trustees of the Hospital for Sick Children.
York University's Faculty of Education created the Jean Augustine Chair in Education in the New Urban Environment "to enrich a multitude of activities at York University with research and academic expertise in the areas of education policy and practice, immigration, community engagement, and cultural diversity."
She has been honored by many organizations for her leadership and community involvement. In 2009, the Women's Executive Network named her as one of Canada's Most Powerful Women and the Girls' Leadership Academy of the Toronto District School Board bears her name.
She was also awarded the Luminary Award by the University of the West Indies in 2006 and has received honorary doctor of law degrees from the Universities of Toronto, Guelph, McGill and York.
In December 2009 she was appointed as a Member of the Order of Canada and in 2012 she received the Queen's Diamond Jubilee Medal.
Other stellar community leaders recognized at the YHRI Toronto human rights celebration were Vice-Principal with York Region District School Board Padmini Padiachy, Youth Day Global Founder Tylaine Duggan, Director of Public Affairs of the Church of Scientology Toronto Pat Felske, and Youth for Human Rights Youth Achievement Award winner Kristina Kisin.
"This celebration is held to bring attention to the United Nations Universal Declaration of Human Rights, so that others will be inspired to make human rights a global reality and not something vague and impossible," said the director of the local chapter of Youth for Human Rights Ms. Nicole Crellin. She spoke of the grave human rights violations occurring today from human trafficking to poverty, famine, slavery and the more than 1 billion adults unable to read. "We need to petition governments to implement and enforce the provisions of the UDHR and mandate human rights education in schools."
With a purpose "to teach youth about human rights and inspire them to become advocates for tolerance and peace", YHRI has delivered human rights education in over 150 countries and works with more than 1,000 organizations and governments worldwide
For more information about the Universal Declaration of Human Rights, visit the Youth for Human Rights website. ​
Share: