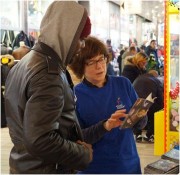 Group invites shoppers to lend a hand with a unique petition promoting human rights education.
Brussels, EU, February 11, 2016 (Newswire.com) - Young volunteers from the Youth for Human Rights Brussels chapter and their adult mentors took over a section of Gallerie Agora with a unique demonstration of why human rights education is needed in all Belgian schools.
Approaching shoppers, the youths asked which of the 30 articles of the Universal Declaration of Human Rights (UDHR) are most important. Most could only guess as they had no idea what the Declaration includes, and many had never heard of the UDHR at all.
Volunteers then used the illustrated booklet What are Human Rights? to show them how important it is for everyone to understand this document. They went through the 30 freedoms and rights it contains, such as the right to life, the right to fair justice, freedom from discrimination, torture and slavery. Then they asked them to sign the petition by drawing their palms on the scroll and signing them with the right they feel is most important.
People were standing on line at the Youth for Human Rights booth, waiting to sign the petition to let the government know they believe all youth in the country should know their rights.
The Brussels chapter of Youth for Human Rights is supported by the Brussels Branch of the Churches of Scientology for Europe. Scientologists on six continents engage in collaborative efforts with government agencies and nongovernmental organizations to bring about broad-scale awareness and implementation of the 1948 United Nations Universal Declaration of Human Rights, the world's premier human rights document.
Share: