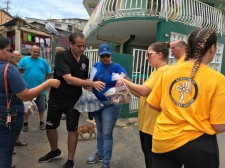 Scientology Volunteer Ministers teamed up with Representative Jorge Navarro Suárez to deliver food and water to his constituents.
SAN JUAN, Puerto Rico, October 6, 2017 (Newswire.com) - Gas shortages, blocked roads, and flooding from Hurricane Maria are still making access to simple necessities such as food and water a challenge. So a team of Scientology Volunteer Ministers was happy to work with Puerto Rico Representative Jorge Navarro Suárez, helping him hand out supplies to people in outlying areas of his district.
Hurricane Maria, striking only two weeks after Hurricane Irma, left the island prostrate. The strongest hurricane to hit Puerto Rico in nearly a century, it left most of the island without electricity. FEMA estimates some 55 percent of the population still have no access to fresh water. Hurricane Irma hit only weeks before.  
Scientology Volunteer Ministers from Florida and across the U.S. are arriving on the island to join local Scientologists in helping the island cope and pull through this terrible disaster.
Much more help is needed. Scientology Volunteer Ministers International headquarters has put out a call for hundreds of VMs to provide relief in Puerto Rico. "We will not forget Puerto Rico," says the Volunteer Ministers International Coordinator. "We are here for the long haul to make sure the island not only recovers but prospers."
Those wishing to help or to donate food, water, or emergency supplies should contact the Volunteer Ministers headquarters in Los Angeles at (800) HELP-4-YU or 1 (323) 960-1949.
The Church of Scientology Volunteer Ministers program is a religious social service created in the mid-1970s by Scientology Founder L. Ron Hubbard. For more information, visit the Volunteer Ministers website.
Source: ScientologyNews.org