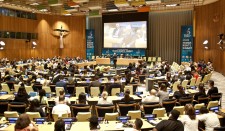 52 young human rights activists representing 42 nations attended the 14th annual Human Rights Summit at the United Nations from Aug. 24 to 27.
NEW YORK CITY, August 28, 2017 (Newswire.com) - From among the hundreds of young men and women who applied to attend the 14th annual Youth Summit at the United Nations, 52 were selected based on their outstanding accomplishments in raising awareness of human rights. Arriving in New York Aug. 24 to represent their 42 countries, they found a wealth of knowledge and resources to help them bring humane values and opportunity to all people in their countries.
Master of ceremonies Dr. Mary Shuttleworth, Founder and President of Youth for Human Rights International, introduced the panelists who addressed important aspects of the state of human rights and human rights education: Summit sponsor, Ambassador Laura Flores, Permanent Representative of Panama to the United Nations; co-sponsor Ambassador Ry Tuy, Permanent Mission of the Kingdom of Cambodia to the United Nations; Ambassador Mahmoud Saikal, Permanent Representative of the Islamic Republic of Afghanistan to the United Nations; Ambassador Michael Grant, Deputy Permanent Representative of Canada to the United Nations; and Nobel Laureate and former President of Costa Rica Dr. Oscar Arias Sánchez.
The Ambassadors of Panama and Cambodia announced their partnership with Youth for Human Rights.
Dr. Shuttleworth presented Dr. Arias Sánchez with the organization's Human Rights Hero Award.
Mr. Fabio Amicarelli of the Human Rights Office of the Church of Scientology International gave concluding remarks on behalf of his office, which has co-sponsored the Summit since its inception.
Among the 360 people attending were ambassadors and other representatives of the permanent missions to the UN including Afghanistan, Bangladesh, Bahrain, Canada, Cuba, Cyprus, Equatorial Guinea, France, Ghana, Ireland, Italy, Mexico, Myanmar, Nepal, Pakistan, Panama, Romania, Sri Lanka, and Turkey.
On the second day of the Summit, also hosted by the U.N., two panels presented important human rights issues to the youth delegates and those attending.
The emphasis of the first panel was human trafficking. According to the U.S. State Department, 600,000 to 800,000 people are trafficked across international borders every year, of whom 80 percent are female and half are children.
The panel featured Ms. Marisol Nichols, actor and founder of Slavery Free World, who presented a film of her undercover work to expose human trafficking. Ms. Nancy Rivard, president of Airline Ambassadors International, spoke of educating flight attendants to spot and prevent trafficking. Rosi Orozco, president of the nongovernmental Commission United Against Human Trafficking screened a video on the plight of trafficking victims. And a human trafficking survivor brought the subject home with her own moving story.
There was also a presentation by Carlyle Holder, immediate past president of the National Association of Blacks in Criminal Justice and Somoly Heng with the Ministry of Foreign Affairs and International Cooperation of Cambodia.
The second panel of the day included Bryant McGill, author, activist, and social entrepreneur; Christopher Ahearn, Director of Partnerships of Reach the World; and Kerri Kasem, radio and TV host, activist and founder of Kasem Cares.
Youth delegates and guests were welcomed to day three of the Summit at the Church of Scientology Harlem Community Center by a representative of Queen Mother Dr. Delois Blakey, the unofficial Mayor of Harlem.
There were performances by local artists and by Miss New York 2016 Camille Sims and Wil Seabrook, founder of Rock for Human Rights.
Youth delegates and directors of Youth for Human Rights chapters from the Congo, Nepal, Taiwan, and Venezuela made presentations on their activities. Youth delegates exchanged information on their successful actions and networked on resources others can use to accomplish their programs. There were also workshops and training sessions on skills to help the delegates become even more confident and effective in their activities. Youth delegates returned home equipped with the tools they need to accomplish their human rights plans for their zones.
The Church of Scientology and Scientologists support United for Human Rights and its program for young people, Youth for Human Rights. These groups engage in collaborative efforts with government agencies and nongovernmental organizations to bring about broad-scale awareness and implementation of the 1948 United Nations Universal Declaration of Human Rights.
Read the article on the Scientology Newsroom.
Source: ScientologyNews.org
Share: