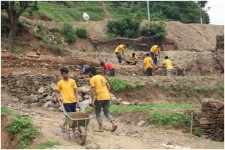 Scientology Volunteer Ministers continue their work in Nepal, helping the country recover from the 2015 earthquakes.
Kathmandu, Nepal, July 6, 2016 (Newswire.com) - A permanent Scientology Volunteer Ministers center in Kathmandu is the center of a movement that continues to bring help to those left devastated by the 2015 Nepal earthquakes.
The center coordinates the work of thousands of volunteers working in villages throughout the country. And with more than 2 million still homeless because of the earthquakes, many of these teams of volunteers specialize in construction.
This past week nearly 1,000 Volunteer Ministers worked on construction projects, demolishing condemned structures, clearing out rubble and building houses in 17 districts including Kahtmandu, Sindhupalchowk, Nuwakot, Laliptur and Tanahu.
But Nepal was struggling even before the earthquakes. The country already ranked near the bottom of the United Nations Development Human Development Index. And in 2011, according to the national living standards survey, more than 30 per cent of Nepalese subsisted on less than $14 each month. Increasing the standard of living and moving to a technology-based culture requires skills that are baulked by illiteracy and the quality of schooling in the country.
To help create a better future, Volunteer Ministers are working with schools to ensure youth learn the study skills they need to survive in today's world. Each week they train hundreds of children and youth on the study technology developed by Scientology Founder L. Ron Hubbard.
The Kathmandu Volunteer Ministers Center itself is a dynamic and lively activity, training volunteers from districts throughout the country on the 19 Volunteer Ministers courses so they can return to their homes and help their communities.
Whether serving at home or on the other side of the world, the motto of the Scientology Volunteer Minister is "Something can be done about it." The program, created in the mid 1970s by L. Ron Hubbard and sponsored by the Church of Scientology International as a religious social service, constitutes one of the world's largest international independent relief forces.
Source: ScientologyNews.org
Share: